Kitchen remodeling is an excellent way to add value to a home and create a more functional and stylish space. In this article, we will discuss the latest kitchen remodeling trends, provide practical tips for planning a kitchen remodel, showcase inspiring examples of kitchen remodeling projects, and encourage readers to take action on their kitchen remodeling goals.
5 Kitchen Remodeling Ideas for Big Kitchens
1.Create a Kitchen Island
A kitchen island can add a lot of extra counter space and storage to a big kitchen. It can also serve as a focal point for the room, providing a place for friends and family to gather while you cook.
2. Install a Double Oven
If you have the space, consider installing a double oven. This can be a game-changer when it comes to preparing meals for a large family or hosting a dinner party.
3. Add a Walk-In Pantry
A walk-in pantry is a dream for many home cooks. It can provide a ton of extra storage space and make it easier to keep your kitchen organized.
4. Choose High-End Appliances
In a big kitchen, high-end appliances can make a big impact. Consider investing in a commercial-grade refrigerator, a six-burner range, or a wine fridge.
5. Go for Open Shelving
Open shelving can add a modern touch to a big kitchen. It can also be a practical choice, making it easier to access your dishes and cookware.
5 Kitchen Remodeling Ideas for Small Kitchens
1.Opt for Light Colors
In a small kitchen, light colors can make the space feel bigger and brighter. Consider painting your cabinets white or cream, or adding a backsplash in a light color.
2. Use Every Inch of Space
In a small kitchen, every inch counts. Consider adding shelves or hooks to the walls to maximize storage space. You can also use the inside of cabinet doors for extra storage.
3. Install a Pull-Out Pantry
A pull-out pantry can provide a lot of extra storage space without taking up too much room. It's a great choice for a small kitchen.
4. Choose Compact Appliances
When you're working with limited space, compact appliances can be a lifesaver. Look for a narrow refrigerator, a slimline dishwasher, or a two-burner stove.
5. Get Creative with Lighting
In a small kitchen, lighting can make a big difference. Consider adding under-cabinet lighting, pendant lights, or a skylight to brighten up the space.
Kitchen Remodeling Trends
There are several kitchen remodeling trends that are popular now, including:
1.Open Shelving: Open shelves are a great way to display your favorite kitchenware and give your kitchen a more airy, open feel.
2. Bold Backsplashes: Bold backsplashes are a great way to add a pop of color and pattern to your kitchen. From geometric tiles to intricate mosaics, there are endless options for creating a statement backsplash.
3. Smart Kitchens: Technology is becoming more integrated into kitchen design, with smart appliances and devices that make cooking and cleaning easier and more efficient.
4. Hidden Appliances: To create a seamless look, many homeowners are opting for hidden appliances that blend into the cabinetry, such as built-in refrigerators and dishwashers.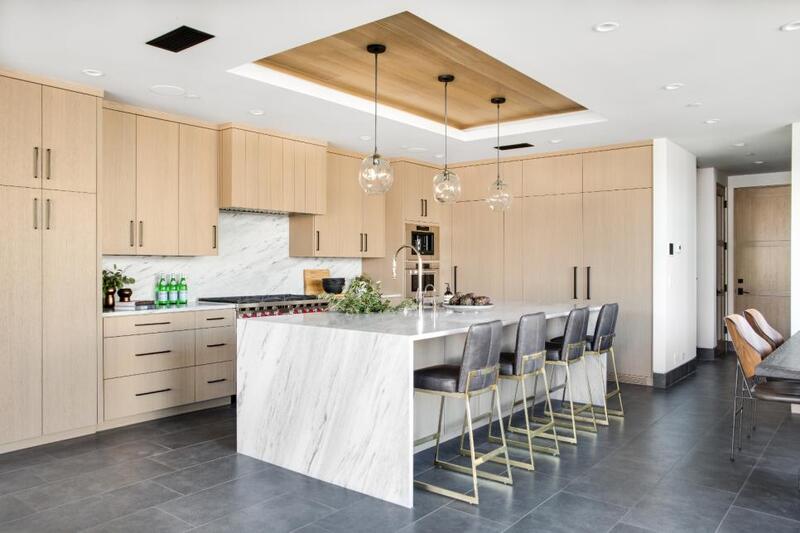 5. Mixed Metals: Mixing different metals, such as copper, brass, and stainless steel, adds visual interest and depth to the kitchen design.
6. Darker Colors: Darker cabinet colors, such as navy blue and forest green, are becoming more popular and can create a sophisticated, moody look in the kitchen.
7. Large Islands: Islands are no longer just for prep space, but have become a focal point for gathering and entertaining. Large islands with seating areas and built-in storage are a top trend in kitchen remodeling.
Kitchen Remodeling Tips
Planning is essential when it comes to kitchen remodeling. Setting a budget, hiring a professional, and selecting the right materials are some of the practical tips that can help readers avoid common mistakes and achieve their desired results. It's also important to consider the layout and flow of the kitchen, as well as the desired style and functionality.
Why Choose Superior Windowland for Kitchen Remodeling
Superior Windowland is the top choice for kitchen remodeling in Connecticut and the surrounding area. With years of experience and a team of skilled professionals, we can handle any project, big or small. We offer a wide range of services, from design to installation, and we use only the highest-quality materials. Plus, we offer competitive pricing and excellent customer service, ensuring that your kitchen remodeling project is a success.
We have a wide selection of kitchen installation products and services, including:
countertops

lighting

faucets

plumbing

electrical work

flooring

wall tile installation. 
Our team is dedicated to working with you to create the beautiful and functional kitchen for you. If you're ready to proceed with kitchen installation in Connecticut, don't delay any longer. Instead, contact Superior Windowland for a free estimate today. If you aren't ready to speak with someone, don't hesitate to fill out the online form on our website for a no obligation assessment. The kitchen of your dreams are only a call or a few clicks away.
In conclusion, kitchen remodeling can be a great investment for homeowners who want to add value to their homes and create a more functional and stylish space. By following the latest kitchen remodeling trends, practical tips, and inspiration, readers can achieve their desired results and create a kitchen they love. Don't hesitate to contact a professional kitchen remodel contractor for guidance and consultation.