Due to their distinctive style and adaptability, awning windows are growing in popularity in both residential and commercial settings because they enhance a building's unique look while offering ventilation and security.
In addition, they're a clear choice for architects and builders because of their versatility in combining with other types of windows for enhanced usefulness. As consumers seek to lower their household energy expenditures, the popularity of energy-efficient options is growing.
What Is An Awning Window?
Awning windows are special because they open outward from a hinge at the top, forming a slight overhang or "awning." They are often smaller than other kinds of windows and are frequently combined with other windows to produce a more exciting and dynamic design.
The windows come in various designs, such as casement or hopper, and are constructed from different materials, including wood, aluminum, and vinyl awning windows. To match the decor of any home, they're also offered in a variety of colors and finishes.
Typically, awning windows can be put above or below other windows and on their own. Additionally, they serve as emergency exits and are suitable for spaces where air quality is a concern.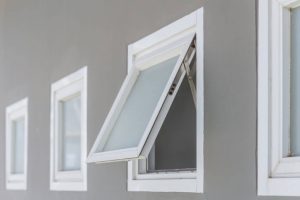 Benefits of Awning Windows
Awning windows are a popular option for homeowners and builders due to their many advantages.
One of their main advantages is their capacity to offer ventilation while shielding a building's interior from the weather. And they're perfect for bathrooms, kitchens, and laundry rooms where seclusion is valued but ventilation is also required.
They create an emblematic aesthetic design and improve the building's functionality when paired with other kinds of windows.
Awning windows typically have a simple crank handle or push-button mechanism that makes them simple to operate and can be locked.
Furthermore, awning windows use less energy, which can lower the cost of heating and cooling.
How do Awning Windows Work?
The windows have a modest overhang because they open outward and are hinged at the top. They can be secured for increased security and unlocked using a crank handle or push-button system. You can generally extend the window using the handle or push button to adjust how much outside air is allowed into the building.
A standard spring-loaded system on awning windows balances the weight of the sash and makes it simple to open and close. Some designs incorporate a locking mechanism that lets you lock the window while it's half open. A switch or remote control is provided with automatic openers in other types.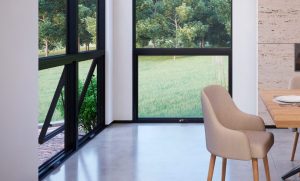 Why Awning Windows by Superior Windowland
Awning windows are a popular and versatile option for residential and commercial settings. We provide ventilation and protection while adding distinctive design elements to a building.
Awning window production and installation are the areas of expertise for Superior Windowland. We have a vast selection of awning window designs and materials, and our knowledgeable staff can assist you in selecting the best windows for your requirements.
Superior Windowland has the ideal awning windows in Connecticut for any project, from energy-efficient options to custom designs.
If you're ready to proceed with an awning window installation in Connecticut, don't delay any longer. Instead, contact Superior Windowland for a free estimate today. If you aren't ready to speak with someone, don't hesitate to fill out the online form on our website for a no obligation assessment. The windows of your dreams are only a call or a few clicks away.