Bathroom remodeling can be a great investment for homeowners who want to create a more functional, stylish, and relaxing space. In this article, we'll explore some of the latest bathroom remodeling trends, provide practical tips for planning a bathroom renovation, and showcase inspiring examples of successful bathroom remodeling projects.
7 Bathroom Remodeling Ideas for Big Bathrooms
Whether you have a small bathroom or a big one, there are many remodeling ideas you can consider to make it more beautiful, efficient, and enjoyable. In this article, we will focus on big bathrooms and provide seven remodeling ideas that can transform them into stunning and luxurious spaces.
1. Add a Soaking Tub
A soaking tub is a perfect addition to a big bathroom as it provides a relaxing and luxurious bathing experience. You can choose from various styles, such as freestanding, built-in, or corner tubs, and materials, such as acrylic, porcelain, or stone. Consider adding a chandelier or pendant lights to create an elegant and cozy atmosphere.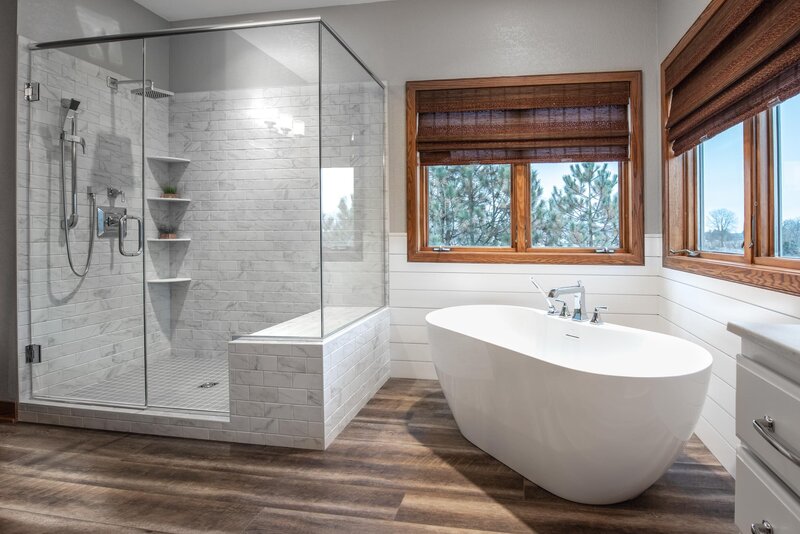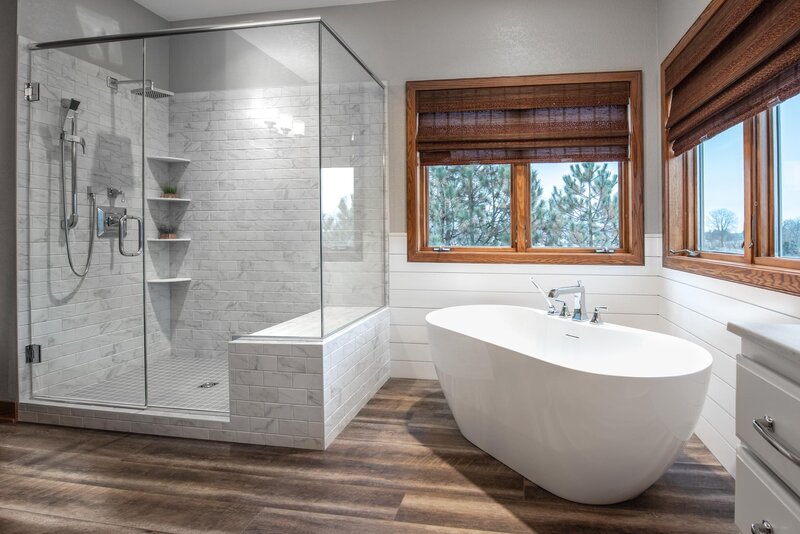 2. Install a Walk-In Shower
A walk-in shower is a popular bathroom remodeling trend that can enhance the functionality and aesthetics of a big bathroom. It provides a spacious and open showering area and eliminates the need for a shower curtain or door. You can choose from various designs, such as curbless, glass-enclosed, or dual-entry showers, and add features such as rain showerheads, body jets, or benches.
3. Incorporate Natural Materials
Natural materials, such as stone, wood, or marble, can add warmth, texture, and sophistication to a big bathroom. Consider using them for flooring, walls, countertops, or accents. You can also add plants, such as ferns, orchids, or succulents, to bring nature indoors and create a serene and relaxing ambiance.
4. Maximize Storage
A big bathroom can provide ample storage opportunities if designed properly. Consider adding built-in cabinets, open shelves, or floating vanities to store towels, toiletries, or linens. You can also use baskets, trays, or boxes to organize smaller items and add a decorative touch.
5. Use Light Colors
Light colors can make a big bathroom feel brighter, more spacious, and more inviting. Consider using shades of white, beige, or gray for walls, flooring, and fixtures. You can also add colorful accents, such as artwork, towels, or rugs, to create a pop of color and personality.
6. Add a Fireplace
A fireplace can add a cozy and romantic touch to a big bathroom, especially during cold winters. Consider installing a gas or electric fireplace near the bathtub or the seating area and add a mantle, surround, or hearth to create a focal point.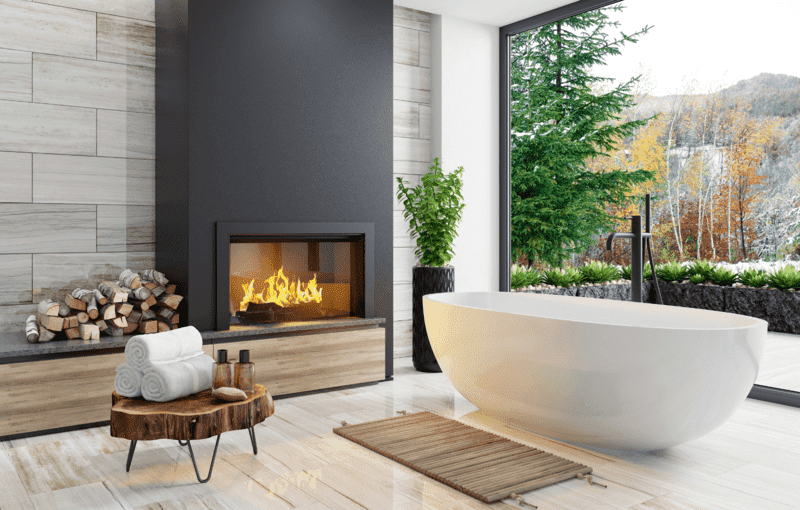 7. Upgrade Lighting
Good lighting can enhance the functionality, safety, and ambiance of a big bathroom. Consider installing a mix of overhead, task, and accent lighting to provide proper illumination for various activities, such as shaving, makeup application, or relaxation. You can also add dimmer switches, sconces, or pendants to create a custom and flattering lighting scheme.
6 Bathroom Remodeling Ideas for Small Bathroom
A small bathroom can pose a challenge when it comes to designing and remodeling. However, with the right ideas and planning, you can create a stylish and functional space that maximizes the available area. In this article, we'll explore six bathroom remodeling ideas specifically tailored for small bathrooms.
1. Opt for a Walk-In Shower
Showers take up less space than bathtubs, making them ideal for small bathrooms. A walk-in shower is a great way to save even more space, as it eliminates the need for a door or curtain. You can also incorporate various design elements, such as a built-in bench or shelves, to make the shower area more practical.
2. Install a Floating Vanity
A floating vanity is a smart choice for a small bathroom because it provides additional floor space while still offering ample storage. Wall-mounted vanities are another option to consider, as they create an illusion of more space while still providing storage underneath.
3. Use Mirrors to Create Illusion
Mirrors are a simple and effective way to create an illusion of space in a small bathroom. Install a large mirror above the sink to reflect light and visually expand the area. You can also opt for mirrored cabinets or a mirrored wall to enhance the effect.
4. Choose Light Colors
Light colors can make a small bathroom feel brighter and more open. Use a neutral palette for the walls, floors, and fixtures to create a cohesive look. You can add pops of color through accessories like towels or bath mats.
5. Utilize Vertical Space
When space is limited, it's important to make use of every available inch. Install floating shelves or cabinets to store toiletries and towels, or consider a tall storage tower to maximize vertical space.
6. Add Natural Light
Natural light can make a small bathroom feel more spacious and inviting. Consider adding a skylight or a window to bring in natural light. If that's not an option, install bright and energy-efficient lighting fixtures to make the space feel brighter.
Bathroom Remodeling Trends
Spa-like features
Many homeowners are incorporating spa-like features into their bathroom remodeling projects, such as steam showers, heated floors, and soaking tubs. These features can add a luxurious touch and create a relaxing, rejuvenating space.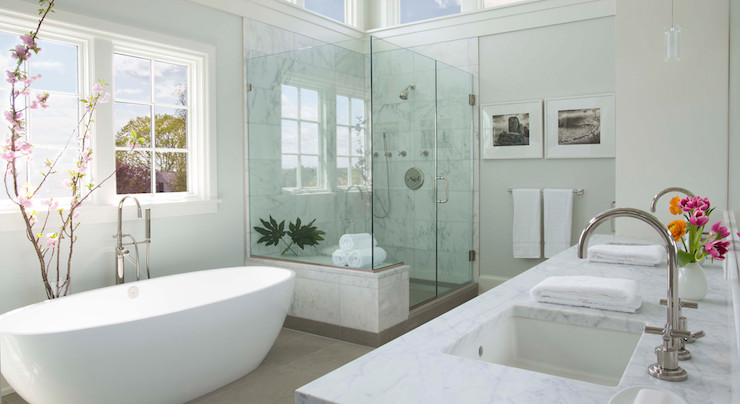 Technology integration
Technology is becoming increasingly popular in bathroom design, with features like smart toilets, touchless faucets, and built-in speakers for music or podcasts. These features can make your bathroom more convenient and enjoyable to use.
Eco-friendly elements
Sustainable design is another trend in bathroom remodeling, with features like low-flow toilets and showerheads, energy-efficient lighting, and recycled materials. These elements can save you money on utility bills and reduce your environmental impact.
Bathroom Remodeling Tips
1. Assess your needs
Before starting a bathroom remodeling project, take the time to evaluate your needs and preferences. Consider factors such as the number of people using the bathroom, the amount of storage you require, and your aesthetic preferences.
2. Set a budget
Determine how much you're willing to spend on your bathroom remodel, and stick to it. Prioritize your spending on the features that matter most to you, such as a new bathtub or a walk-in shower.
3. Choose quality materials
Invest in high-quality materials for your bathroom renovation, such as durable flooring, waterproof wall tiles, and sturdy fixtures. This will ensure that your bathroom looks great and lasts for years to come.
4. Hire a professional
A bathroom remodel can be a complex project, and it's important to have the right expertise on hand. Hire a professional contractor, like Superior Windowland, to help you plan, design, and execute your bathroom renovation.
5. Focus on lighting
Lighting can make a big difference in the look and feel of your bathroom. Consider adding dimmer switches, installing task lighting around the vanity area, or adding a skylight to bring in natural light.
6. Maximize storage
Storage is key in a small bathroom. Consider adding built-in shelving, a recessed medicine cabinet, or a vanity with drawers or cabinets to keep clutter at bay.
Why Choose Superior Windowland for Bathroom Remodeling
Superior Windowland has been providing expert bathroom remodeling services for over 20 years. Our team of experienced designers and contractors can help you create the bathroom of your dreams, from the initial design phase to the final installation. We use only the highest-quality materials and provide exceptional customer service, ensuring that your bathroom renovation is completed on time and within budget.
When looking for bathroom remodeling in Connecticut, Superior Windowland is a premier provider. With over 50 years of experience, our team of skilled craftsmen and designers are committed to delivering exceptional quality and customer service. We offer a broad selection of bathroom installation services, including:
replacement showers

new showers

bathroom renovations

installing basement bathrooms

walk-in tubs

master bathroom remodeling.
If you're ready to proceed with bathroom installation in Connecticut, don't delay any longer. Instead, contact Superior Windowland for a free estimate today. If you aren't ready to speak with someone, don't hesitate to fill out the online form on our website for a no obligation assessment. The bathroom of your dreams are only a call or a few clicks away.
By following these bathroom remodeling tips and incorporating the latest trends, you can create a beautiful, functional, and relaxing space in your home. And with Superior Windowland's expertise, you can be confident that your bathroom renovation will exceed your expectations. Contact us today to learn more about our bathroom remodeling services.